Mini Konafa Cups
By Hebba • July 1, 2015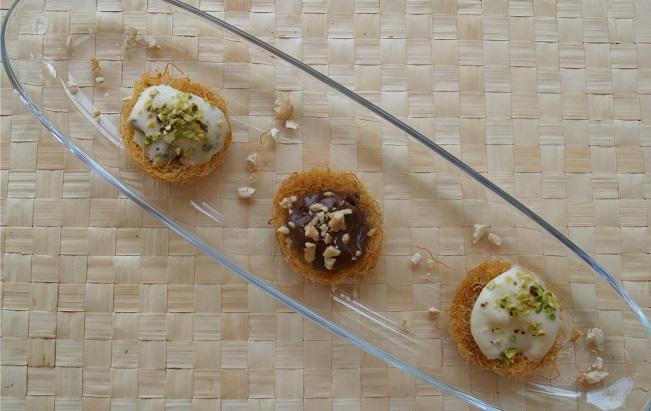 These mini Konafa cups are so easy to prepare and just optimal for small gatherings. You can prepare them in advance and top them with nutella, ice cream, Halva, or just cream and nuts. They look great on the table and satisfy all tastes.
Ingredients
250 gram

konafa (whole strings) - كنافة

6 tablespoon

butter (melted - or as much as the konafa needs to be moist and nicely coated) - زبدة

Topping:

Nutella chocolate - شوكولاته نوتيلا

ice cream (mesteka) - أيس كريم

hazelnut (toasted) - بندق

pistachios (shelled, not salted) - فستق
Step by step
Preheat oven to 180 degrees. To do the konafa cups, you will need cupcake tins.
In a deep dish or tray, add melted butter to the raw kunafa and mix well.
Take long strings of the konafa and roll it inside the cupcake tins, covering the bottom and sides.
Place the cupcake tray in the oven. Leave for about 7-10 minutes, maybe a bit more just until the konafa has turned into a golden crispy color.
Take it out of the oven and let it rest for a minute before you remove the konafa cups from the cupcake tray.
Using a spoon, add some nutella in the cups, and sprinkle crushed roasted hazelnut on top. Or you can add mastic ice cream into the cups and sprinkle pistachios. You can also use vanilla ice cream and top it with nuts, konafa syrup or caramel sauce.