Chocolate-Dipped Marshmallows
By Dina Radwan • December 7, 2015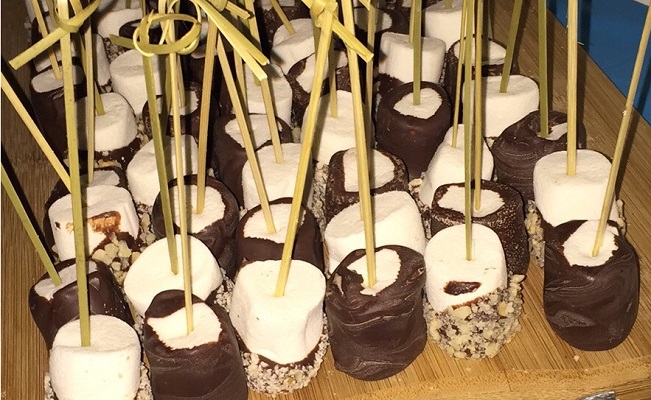 A fun and tasty dessert
Recipe uploaded by Dina Radwan.
Ingredients
1 pack

marshmallows - مارشمالو

1 cup

dark chocolate (coins) - شوكولاتة غامقة

1 cup

chocolate (milk chocolate coins) - شوكولاتة

Half cup

hazelnut (peeled) - بندق
Step by step
Start by inserting toothpicks or skewers in your marshmallows.
Use a grinder or blender to grind the hazelnuts. If you don't have one, do it the old fashioned way and use a mortar & pestle ("hon" in Arabic).
Add the milk and dark chocolate coins in a microwaveable bowl and place it in the microwave for 30 seconds.
Start stirring the chocolate a little then place it in the microwave again for another 10 seconds and repeat stirring.
Repeat the above step until the chocolate has melted. Make sure not to over heat it or the chocolate will burn. Also make sure that the chocolate doesn't mix with any drops of water or it will not dry and set.
Dip your marshmallows half-way in the melted chocolate. Make sure you let it drip out all the extra chocolate before moving to the next step.
Roll the marshmallows in the hazelnuts until all the chocolate part is covered with the nuts.
Place the dipped marshmallows on parchment paper and leave them to set and dry. Arrange on a serving plate/ tray and serve.