Delicious Low-Calorie Carrot Cake
By Reeham Shaker • February 11, 2016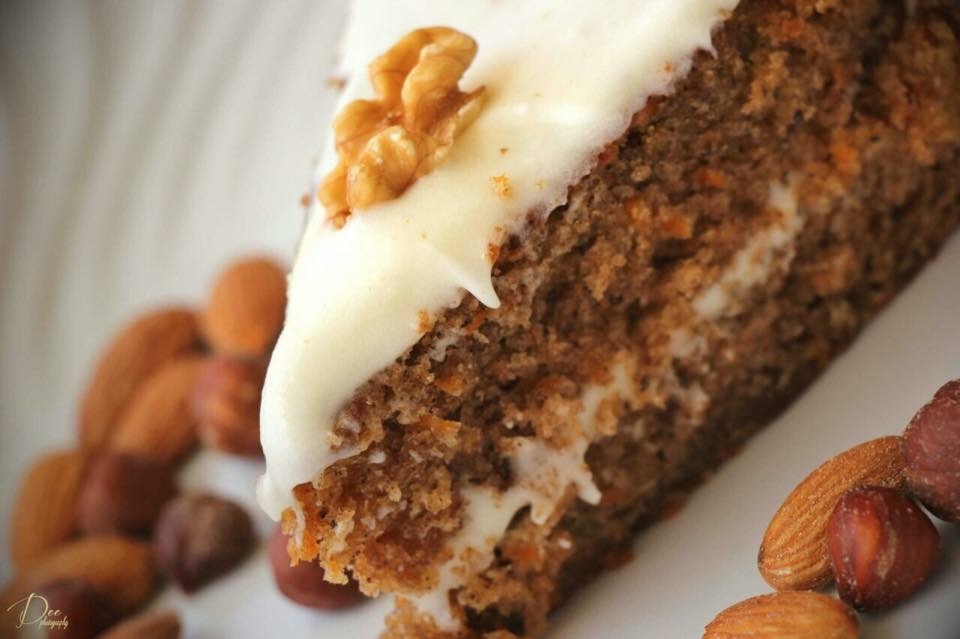 This recipe is an entry to #MyBestDish cooking competition with Easy-Pan.com.
Almost 390 calories.
Carrots are rich in vitamin A, C, K, B8, Folate, Potassium, iron and manganese. Most of its benefit are attributed to its beta carotene and fiber content, also its a great immunity booster and it helps in reducing both bad cholesterol and signs of premature aging. Enjoy the recipe!
This recipe is uploaded by Reham Shaker.
Ingredients
3

eggs - بيض

1/2 cup

vegetable oil - زيت نباتي

3/4 cup

brown sugar - سكر بني

1/4 cup

honey - عسل

1 teaspoon

vanilla extract - خلاصة الفانيليا

1/2 cup

whole wheat flour - دقيق القمح الكامل

1 cup

all purpose flour - دقيق أبيض

2 teaspoon

baking powder - باكينج باودر

1/2 teaspoon

salt - ملح

2 tablespoon

cinnamon powder - قرفة

2 cup

carrots (shredded) - جزر

1/4 cup

zucchini (shredded) - كوسة

1/2 cup

walnut (chopped) - عين جمل / جوز

1/4 cup

raisins - زبيب

Icing:

1 pack

cream cheese (225 grams - softened, I usually use Prima) - جبن كريمى

11/2 cup

icing sugar - سكر بودرة

1 teaspoon

vanilla extract - خلاصة الفانيليا
Step by step
Preheat oven to 180C.
Mix wet ingredients (eggs, oil, vanilla extract) with sugar and grated veggies in the blender.
In a separate bowl mix dry ingredients (flour, baking powder, salt & cinnamon) then add them slowly to the wet ingredients. Fold in the walnuts with a spoon or a spatula at the end.
Transfer the dough into a round cake baking dish. Place in the middle of the oven and bake for 35-40 minutes.
Once the cake is out of the oven, leave it to cook for 5 minutes then remove it from cake tim and let it cool further on a wire rack.
For the frosting: Add all frosting ingredients in a bowl. With an electric handheld mixer, whisk for a minute, then add on top of the cake. Enjoy!
If you're feeling more sophisticated, you can carefully pass a large knife through the middle of the circular cake horizontally to halve it. Spread a layer of frosting on the bottom half, then top it with the other half of the cake before you top the whole cake with icing.