Simple Mahalabeya with Lime Curd
By Alia El Askalany • January 30, 2016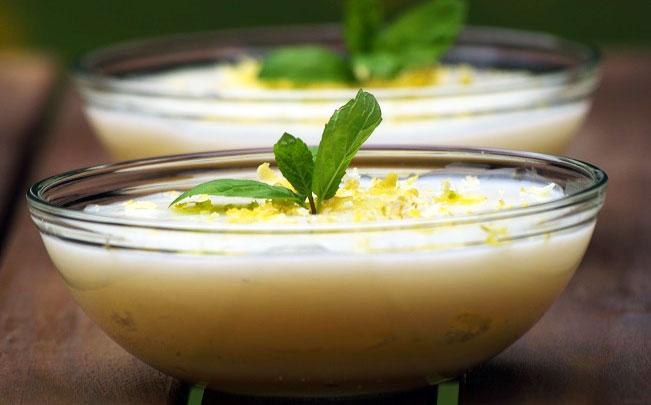 Tested by Cairo Cooking
This Lemon Mehalabeya was tested in the CairoCooking kitchen and it turned out super delicious and tangy, however, we felt the consistency of the mahalabya is better with a 1 tablespoon to 1 cup milk ratio.
A different & summery take on this nostalgic all time favorite Ramadan pudding, but this time I decided to incorporate lemon & zest in it for an extra kick with a toasted almond flake garnish, for extra crunch.
Ingredients
1 cup

milk - لبن

2 tablespoon

corn starch - نشا

5 tablespoon

sugar - سكر

6 piece

lime (juiced) - ليمون بلدي

2 piece

mastic / mesteka - مستكة

1 handful

almonds (toasted) - لوز
Step by step
To make the lemon cream base, mix the lime juice with 1/2 tablespoon corn starch and 1 tablespoon sugar and wait till it thickens over heat, then remove.
Refrigerate in the serving bowl you will use for about half an hour, so it forms a solid base.
Boil half the cup of milk over medium heat. Stir the rest of the corn starch in the rest of the cool milk.
Start adding the corn starch mixture to the boiled milk gradually along with the mastic pieces, stirring frequently with whisk so it doesn't clump.
When it's done (it will form a thick trail on your whisk), remove from heat and pour over cold lemon cream base and refrigerate for another 2 hours before serving.
Grate zest of one lime and toasted almond flakes before serving.