Baked Kofta Rolls
By Lina Khalil • February 11, 2016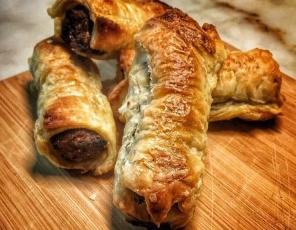 This recipe is an entry to #MyBestDish cooking competition with Easy-Pan.com.
It's a very easy quick recipe, you can do it in less than 15 min. And enjoy the best taste you can take as a snack or main dish if served with macaroni or rice.
This recipe was uploaded by Lina Khalil.
Ingredients
21 piece

puff pastry (squares) - عجينة الباف باستري

1/2 kg

minced meat - لحم مفروم

2

egg yolks - صفار البيض

1 whole

egg - بيضة

1 teaspoon

salt - ملح

1 teaspoon

black pepper - فلفل أسود

1 teaspoon

spices (for meat) - بهارات
Step by step
Preheat oven to 200C. Line oven tray with parchment paper.
Mix minced meat with the egg, salt, pepper and any meat spices you like.
Shape the mix into kofta fingers.
Roll one puff pastry square around each kofta finger. Kofta must be entirely covered, just the upper and bottom parts are visible.
Stir two egg yolks in a bowl. Brush each puff pasty kofta generously with egg yolk.
Place the rolls on the tray. Put the tray in the oven for 10 to 15 minutes. Bon appetite ;)