Homemade Vanilla & Coconut Cake
By CairoCooking • September 26, 2016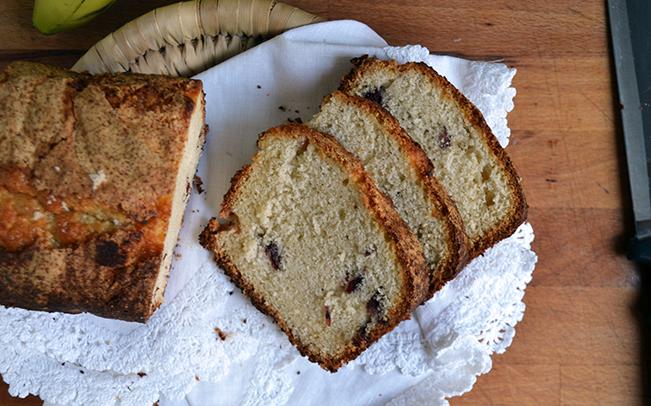 Baking this gluten-free Vanilla & Coconut Cake is so easy, it'll become your new favourite healthy lunchbox treat! If you love the practicality of using ready-made cake mixes, but you worry about what they contain, this Red Mill Gluten-Free Vanilla Cake Mix is what you are looking for. It is specially designed for gluten, wheat and dairy intolerant people. Even if you don't have a gluten issue, we have found gluten free flour lighter on the stomach and easier to digest.
This mix is also lightly sweetened, making you only worry about the wet ingredients and your favorite additions like dried cranberries, golden raisins, dark chocolate chips, or wholesome minced dates.
Ingredients
1 pack

vanilla cake mix (about 500g)

5

eggs - بيض

1/2 cup

coconut oil (melted) - زيت جوز الهند

1/3 cup

water (lukewarm) - ماء

3-4 tablespoon

coconut flakes - رقائق جوز الهند

1 cup

dates (minced) OR dried cranberries OR chocolate chips - بلح
Step by step
Preheat oven to 180C. Line a rectangular 23x13cm cake pan with parchment paper by placing the paper then brushing over it with coconut oil.
In a food processor or using a handheld mixer, beat the eggs. Add coconut oil and mix for another 30 seconds then slowly add the Gluten-Free Vanilla Cake Mix bit by bit until it is all combined.
Slowly add water, while you are mixing, to achieve the desired cake dough consistency - like a smooth, velvety and heavy liquid.
Stop the mixer and manually stir in minced dates (or chocolate chips or dried cranberries.)
Pour the dough into the cake tin and place it in the middle of the oven for 40-45 minutes. Halfway through, sprinkle the cake with coconut flakes. You can check the doneness of the cake by poking a toothpick or knife through it. It should come out clean. Take it out of the oven and let it cool for 15 minutes before cutting through.