Homemade Warm Cheesecake
By Asmaa Elbakry • March 10, 2016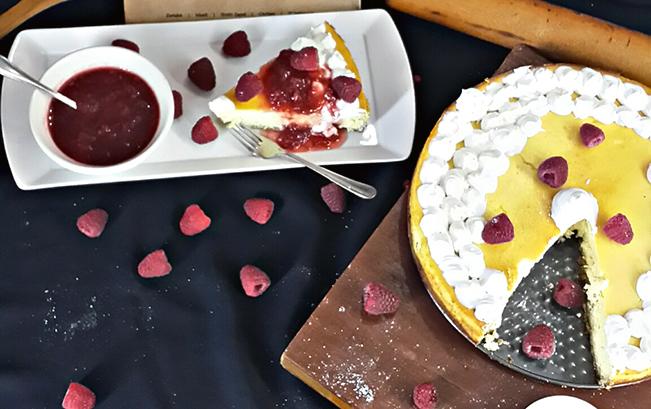 A simple recipe for a rich and warm cheesecake for cheesecake lovers.
Recipe uploaded by Asmaa Elbakry.
Ingredients
100 ml

condensed milk (or 1 cup milk, 1 cup sugar and 1 cup powdered milk) - لبن مركز محلى

200 ml

whipping cream - كريمة للخفق

300 gram

cream cheese - جبن كريمى

4

eggs - بيض

1 teaspoon

lemon zest - قشر الليمون

1 tablespoon

lemon juice - عصير ليمون

1 tablespoon

vanilla extract - خلاصة الفانيليا

2 pack

biscuits - بسكوت

1/3 cup

butter (melted) - زبدة

250 gram

strawberries (or berries) - فراولة

1 cup

sugar (for the sauce) - سكر

1 cup

water (for the sauce) - ماء
Step by step
(لصنع الحليب المكثف (نضع كوب من الحليب السائل مع كوب من الحليب البودر وكوب من السكر نتركهم على النار مع التقليب حتى يصبح القوام سميك نرفع المزيج من على النار ونتركه ليبرد
يضرب الجبن الكريمي مع الحليب المكثف ثم يضاف البيض بيضة تلو الاخرى مع تقليب المزيج تضاف اليهم كريمة الخفق مع التقليب الى ان يصبح مزيجا واحدا
تضاف الفانيليا ورشة ملح صغيرة وبشر الليمون وعصير الليمون الى المزيج الكريمي
نضرب البسكويت حتى يصبح بودر ثم نضيف الزبدة ونمزجه بها نفرد البسكويت في صينية التشيز كيك ثم نصب فوقه المزيج الكريمي
نضع الصينية في فرن مسخنة مسبقا لمدة ساعة ونصف على نار هادئة نفرد البسكويت في صينية التشيز كيك ثم نصب فوقه المزيج الكريمي
عند اخراج الصينية من الفرن يجب عدم نقلها الى درجة حرارة مختلفة مباشرة حتى لا تتشقق التشيز كيك نتركها فترة في درجة حرارة الغرفة العادية ثم نضعها في الثلاجة الى ان تتماسك كليا
لعمل صوص الفراولة (نضع الفراولة مع كوب من الماء وكوب من السكر على النار مع التقليب حتى يذوب السكر ثم نتركهم على النار حتى يصل المزيج للقوام المرغوب). يمكن استبدال الفراولة بالفاكهة المرغوبة
RECIPE IN ENGLISH: 1. To prepare the condensed milk, mix 1 cup of milk with 1 cup of powdered milk and 1 cup of sugar in a pot. Heat with constant stirring until the mixture has thickened. Turn off heat and set aside to cool. 2. In a bowl, mix the cream cheese with the condensed milk. Gradually add the eggs and whisk, followed by the cream. Make sure the mixture is well-combined. 3. Add vanilla and lemon zest and juice. 4. Crush the biscuits until they reach the consistency of powder, then mix with butter. Spread the biscuits in the base of the cheese cake tray and add the creamy mixture on top. 5. Bake in a low heat pre-heated oven for 90 minutes. 6. Don't transfer the hot cheese into a cold temperature, so the surface doesn't crack. Leave it to cool completely in normal room temperature then move to the fridge. 7. To make the strawberry (or berry) sauce, mix strawberries with one cup water and one cup sugar. Gently heat with occasional stirring until the desired consistency is achieved. You can substitute strawberries with your favourite fruit.