Egyptian Keshk
By shahdan • October 20, 2016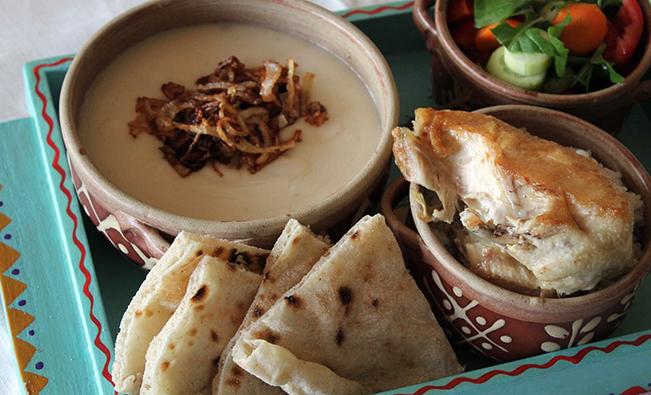 The egyptian keshk is such a hearty and comforting Egyptian home-cooked dish. The fried caramelized onions bring the whole dish together. Serve it with simple cooked chicken and white rice, and enjoy every creamy mouthful of this classic Egyptian meal.
I tested several home-cooked Egyptian Keshk recipes until I finally found the perfect one! Credit goes to a friend's aunt who shared her very own special tips. This dish is also extra special when using homemade chicken broth (for the easiest and most aromatic chicken stock recipe, click here.)
For best results, leave the yoghurt-flour mixture to rest overnight outside the fridge.
NOTE: Cooking time does not include yoghurt resting time.
Ingredients
2 cup

yoghurt (110 gram each) - زبادي

4 tablespoon

flour - دقيق

1/2 cup

milk - لبن

2.5 cup

chicken broth/stock (about 600 ml) - مرقة دجاج

salt and pepper (to taste) - ملح و فلفل

1/2 small

lime (juiced - OPTIONAL) - ليمون بلدي

1 medium

onion (sliced) - بصلة

1/4 cup

vegetable oil - زيت نباتي
Step by step
In a bowl, mix yoghurt and flour and leave to rest for a couple of hours outside the fridge (for best results leave it overnight).
Add milk to the yoghurt-flour mixture to thin it out and whisk.
Move the mixture to a medium pot and heat gently on medium low heat, while gradually adding warm chicken stock and whisking to the desired consistency (like milk pudding). Note that Keshk thickens a bit after cooling.
Adjust salt and pepper, add juice of half a lime (optional), then pour keshk into the serving dish/bowl. (You can also add cooked chicken slices to it before pouring into the serving bowl).
Chop the onion into small thin slices and fry in oil until golden. Drain on kitchen paper and sprinkle over the keshk. Serve warm with chicken and rice or with baladi bread.