Easy Vegan Tortilla Pizza
By CairoCooking • September 16, 2016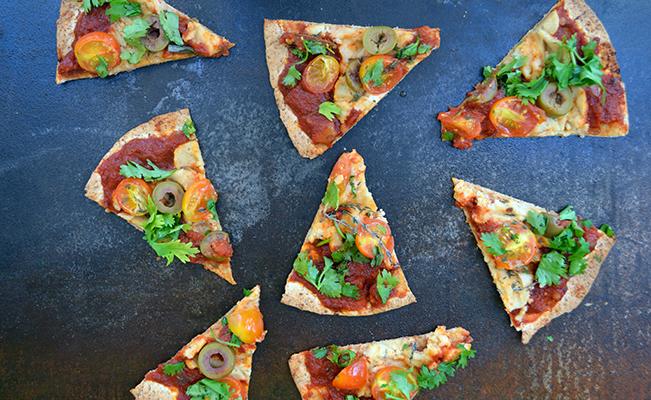 The tortilla pizza is such a fun lunchbox idea that will definitely please your kids. The creaminess of the Melting Cashew Cheese against the crispiness of the tortilla and the lusciousness of the tomato puree is an amazing base to a successful healthy pizza.
Make sure to use fresh tomato puree (try NM frozen Tomato Puree (chemical free) ) and lots of nutritious toppings like veggies (cherry tomatoes, colored peppers, zucchini), greens (here we used parsley) and olives.
Ingredients
1 large

tortilla bread (preferably multigrain) - خبز التورتيلا

4 tablespoon

cashew cheese OR NM Melting Cashew Cheese (Vegan) - جبنة الكاجو

1/2 cup

tomato sauce OR NM frozen Tomato Puree (chemical free) - صلصة طماطم

1 tablespoon

oregano (finely chopped) - أوريجانو/ زعتر

1

garlic clove (minced) - فص ثوم

salt and pepper - ملح و فلفل

Toppings:

2 tablespoon

black olives (chopped) - زيتون أسود

1 handful

cherry tomatoes (sliced in half) - طماطم تشيري

1/2 handful

basil (chopped OR parsley) OR NM Italian Basil (Chemical Free) - ريحان
Step by step
Preheat oven to 180C. Line oven tray with parchment paper.
Stir minced garlic, oregano, salt & pepper into the tomato puree.
Spread tomato puree mix onto the tortilla. Next, layer cashew cream by dropping teaspoons spread all over the pizza. Then, top the pizza with all of your desired toppings.
Place it in the oven for 10-12 minutes, just until tomato puree cooks a bit and cashew cheese melts. Sprinkle with basil or parsley as you desire.