Red Thai Chicken Curry
By Shereen Badawi • September 28, 2015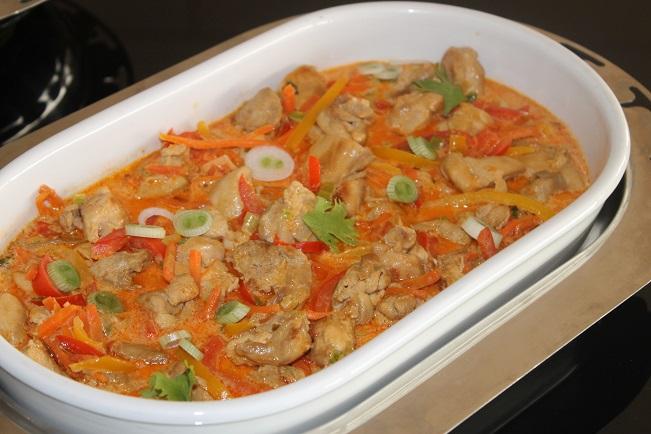 This delicious Red Curry Chicken dish is super easy for everyday, and a great crowd pleaser for larger gatherings. For a stress- free dinner party, cook it up to one day in advance, and simply reheat and garnish before serving.
The recipe is by Shereen Badawi, from her 'In Your Kitchen' article with www.cairocooking.com.
Ingredients
1 kg

chicken thighs (shredded) - أوراك الدجاج

4

carrots (shredded lengthwise) - جزر

1

red pepper (thinly cut) - فلفل أحمر

1

yellow pepper (thinly cut) - فلفل أصفر

1/2 tablespoon

fresh ginger (grated) - جنزبيل

3 tablespoon

light soy sauce - صوص الصويا الخفيف

3 tablespoon

olive oil - زيت زيتون

¼ teaspoon

ginger powder - بودرة جنزبيل

6

spring onion (stems) - بصلة خضراء

2 teaspoon

red curry paste (you may also use green curry paste) - صلصة الكارى الحمراء

1 can

coconut milk (a full can or 1 ¾ cups) - لبن جوز الهند

salt and pepper - ملح و فلفل

coriander (fresh, for garnish - optional) - كزبرة
Step by step
In a large wok or pan, stir-fry all the veggies (except the spring onion) in 2 tbsps. olive oil until softened.
Add the spring onions and a 1 tbsp. soy sauce for another 3 minutes. Once all is cooked, remove from heat, transfer to a dish, and set aside.
In the same wok, add 1 tbsp. olive oil, 1/2 tbsp. fresh ginger, and stir in the chicken. Stir fry the chicken on high heat, after you add black pepper, extra ginger powder and the rest of the soy sauce. Cook the chicken until golden and cooked through.
Add the chicken to the stir-fried veggies, cover, and set aside.
In the same wok, mix the coconut milk with 2 teaspoon red curry paste (for medium spicy) until nicely dissolved.
Return the chicken and veggies to the wok, season with salt and pepper, and let it simmer for a few minutes with the curry coconut milk sauce. Serve it best with yellow turmeric rice garnished with thinly sliced spring onions and fresh coriander.