Daim Double Chocolate Cake
By Marigo Gharbawy • July 5, 2015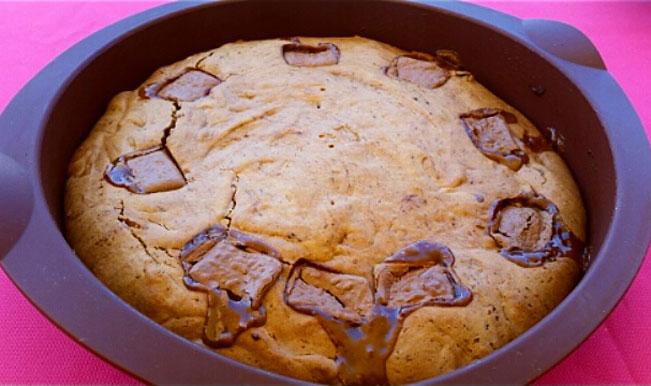 The cake is a result of a random thought that struck at a moment of boredom motivating me to try the new oven my dad bought us in Sokhna. I was bored on a family vacation when my friends told me about a boat trip the next day. So I decided I need to bake something to take with me. I was going through the pantry to see what flavors I will use, it went from salted caramel to dark chocolate orange cake and ended up to Daim double chocolate cake. The cake has a crisp cover but when you cut into it you see a soft layer with mini daims that explode in your mouth as a result of the natural union formed between the melted chocolate and caramel.
150 g of daim chocolate is needed
Ingredients
2 cup

whole wheat flour - دقيق القمح الكامل

1/2 cup

sugar - سكر

1/4 cup

chocolate powder - كاكاو

3/4 cup

milk - لبن

1/3 cup

oil - زيت

2

egg - بيضة

150 gram

DAIM chocolate - شيكولاته دايم

2 tablespoon

cream - قشطة

1 tablespoon

baking powder - باكينج باودر

1 teaspoon

instant coffee - قهوة سريعة التحضير

1 pinch

salt - ملح
Step by step
Preheat the oven at 180 degrees. In a small bowl, put the chocolate (keep one bar aside for decoration) and the cream and microwave it for 30 seconds until melted. Whisk it (at first it will feel like they are not blending but don't worry they will). You can also use a double boiler to melt the chocolate if you do not have a microwave.
In a medium bowl, whisk and combine flour, baking powder, salt, chocolate powder and instant coffee.
In another medium bowl, whisk the eggs and sugar until combined and creamy then add the oil and milk. Give it another stir to combine and finally add the melted chocolate and whisk.
Slowly add the dry mixture to the wet mixture while whisking to combine.
Pour into a well buttered baking pan and make a add mini Daim pieces on top. Bake in the oven for about 35 minutes or when an inserted wooden skewer comes out clean. Leave to cool for 5 minutes then transfer on a cooling rack, slice and enjoy.