Crusty & Golden Apple Pie
By Samiha Amin • February 18, 2016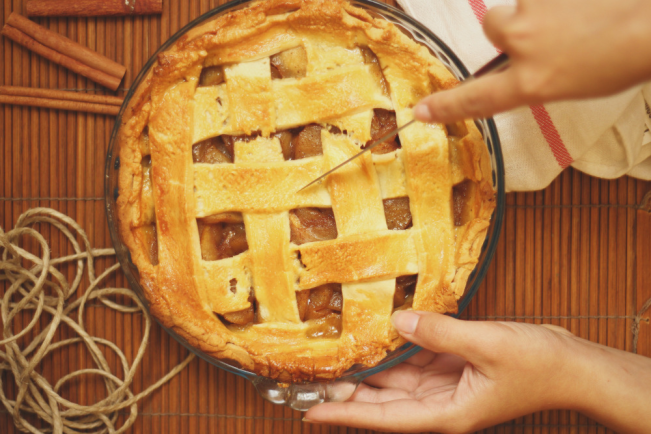 This recipe is an entry to #MyBestDish cooking competition with Easy-Pan.com.
As a child, one of the most exciting things on a Thursday evening was to savor an apple pie from McDonald's, YES you heard me, at that time this was my favorite apple pie of all times, with sugars oozing from all corners, as greasy as it might be but still…favorite (I gotta admit, I still crave it from time to time).
This is our first homemade apple pie and it turned to be a little piece of heaven, coming out of the oven all crusty and golden. It looked so perfect that it broke our hearts to stab it with a knife and ruin such beauty, but what can we say…
Making pies requires a bit of patience but it is surely worth every minute when shared with loved ones. You can always prepare the dough ahead of time and keep in the fridge for up to 4 days. Follow these directions and you are good to go.
For more recipes by Samiha check flavorsofart.wordpress.com
Ingredients
2 1/2 cup

all purpose flour - دقيق أبيض

4 tablespoon

sugar - سكر

1/2 teaspoon

salt - ملح

4.5 tablespoon

butter - زبدة

1 large

egg - بيضة

1 large

egg yolk (egg wash for brushing the dough) - صفار البيض

FILLING

8 cup

apples (cut in half wedges) - تفاح

2/3 cup

sugar - سكر

1/4 cup

butter - زبدة

1/2 teaspoon

cinnamon powder - قرفة

1/8 teaspoon

nutmeg - جوزة الطيب
Step by step
Start mixing the dough by hand in a bowl. Mix sugar, flour and salt together. Then slowly add softened butter and mix with your hands until little crumbs start to form.
Add eggs and keep mixing. If it is still dry then add 1 to 2 teaspoons of water. Divide the dough into 2 parts and wrap them in a plastic wrap and refrigerate for at least 1 hour or until it is hard and cold.
For the filling, peal the apple and cut them in quarters, then cut each quarter to two wedges.
In a large skillet, melt butter over medium heat, add apples, cinnamon, sugar, nutmeg and cook for a couple of minutes then reduce the heat to low and let apples cook and caramelize for about 8-10 minutes.
Preheat oven to 190C.
Roll out half the pastry. Line a 23cm diameter round pie dish, then spoon the apples into the pie dish.
Roll out the remaining pastry to a circle of 2.5 cm bigger than the pie dish and cut it into six strips.
Lay the strips parallel to each other across the filling weave strips into a lattice pattern over fruit. Trim overhanging edge of pastry and press the edges together to form a seal (check image).
Brush dough with egg yolk and sprinkle pie with sugar.
Bake for about 50 minutes or until crust is golden. Leave to cool completely before serving.