Creamy Mussels Pasta Tagliatelle
By yasmine • April 15, 2015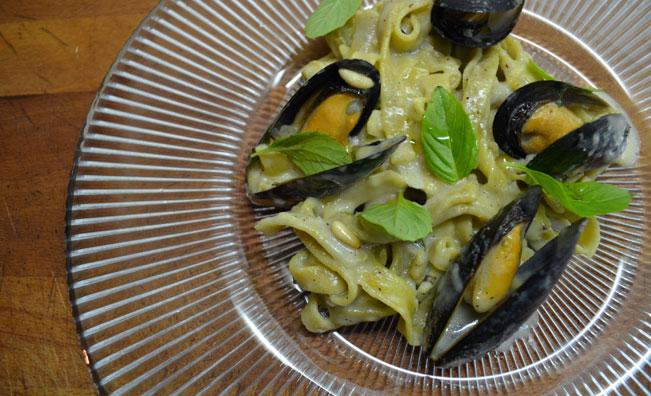 Mussles are so easy to cook yet always add luxury to any menu. This dish takes so little time using simple ingredients, yet can be a showstopper at a dinner party or a romantic evening in.
Since mussels are great with most green herbs, feel free to also add fresh thyme to this dish after the cooking cream.
Ingredients
400-500 gram

pasta (preferably Tagliatele) - معكرونة

500 gram

mussels - بلح البحر

1 cup

cooking cream - كريم الطهي

2 tablespoon

olive oil - زيت زيتون

1 small

onion (finely chopped) - بصلة

3-4

garlic clove (minced) - فص ثوم

2 stem

celery (chopped) - كرفس افرنجي

2 handful

basil (hand-torn) - ريحان

2 tablespoon

pine nuts (toasted) - صنوبر

salt and pepper - ملح و فلفل

arugula (largely chopped - optional for garnish) - جرجير
Step by step
In a large pan, heat the olive oil and add chopped onions, garlic and celery.
When the mix starts to soften (before it turns golden), add the cream and a generous dash of salt and pepper.
As the cream starts sizzling, add the thoroughly washed mussels and cover the pan. The mussels should cook for 5 minutes before you add the pasta.
Boil the pasta in large pot. When the pasta is almost cooked (al-dente), transfer it to the mussels pan, allowing only about a ladle of pasta water through. Let the mix reduce while you stir in and mix the pasta with the mussels (about 2 minutes).
Tear the basil leaves and add them at the end of the cooking process (basil added earlier might turn bitter when overcooked.)
Serve in a semi-bowl and scatter the toasted pine nuts on top and garnish with some more basil and arugula.