Classic Mahalabeya (Milk Pudding)
By shahdan • June 25, 2016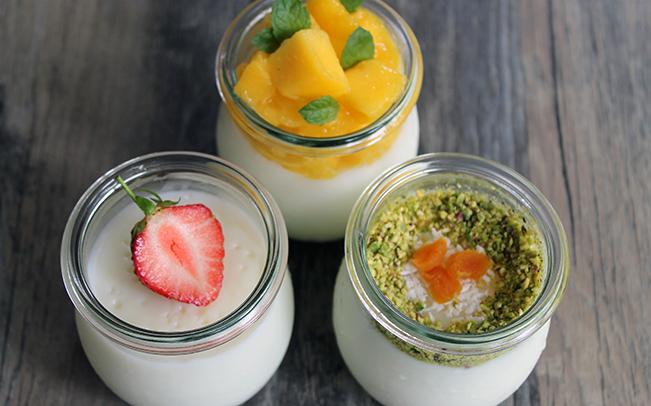 This is an easy straight-forward recipe for classic Mahalabeya. The cream is essential because it gives it its super silky & smooth texture. Whether you eat it plain, keep it classic with a garnish of nuts, or top it with your favourite fruits (our favourite is fresh mango) and mint, this is a summer dessert that all your family will love!
Ingredients
1 liter

half cream milk (4 cups) - لبن نصف دسم

4 tablespoon

corn flour - نشا

6 tablespoon

sugar - سكر

170 gram

cream - قشطة

nuts (to taste) - مكسرات

fruits (to taste) - فواكه
Step by step
In a pot, whisk corn flour with cold milk making sure the corn flour dissolves. Stir in sugar and stir again (off the heat).
Place the same pot on medium/low heat and whisk continuously until milk thickens (about 10-15 minutes).
Take it off the heat, add cream and stir gently until cream is well combined with the Mahalabeya.
Pour the mixture in one serving bowl, or 4- 6 small dessert bowls. Let it cool and place it in the fridge when Mahalabeya reaches room temperature.
Garnish with nuts, fresh fruits like mango & mint. Serve cold.