Microwave Chocolate Mug Cake
By Noha Gaafar • March 20, 2017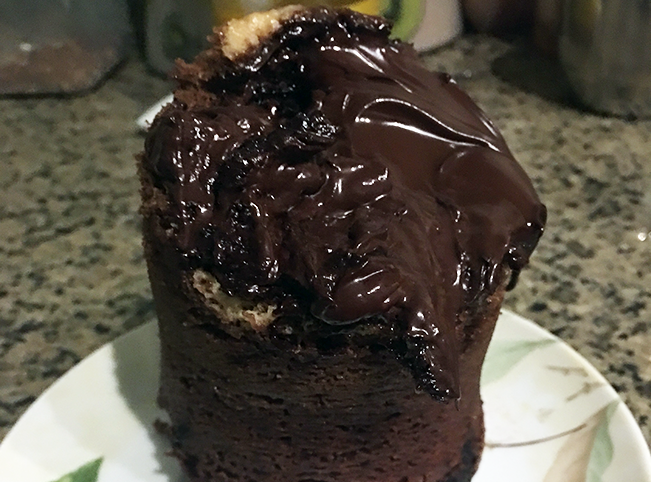 Easy & quick Chocolate Mug Cake to satisfy your chocolate craving.
Recipe uploaded by Noha Gaafar.
Ingredients
1 large

egg - بيضة

1/4 teaspoon

vanilla extract - خلاصة الفانيليا

1/2 tablespoon

vegetable oil - زيت نباتي

1 1/2 tablespoon

sugar - سكر

3 tablespoon

all purpose flour - دقيق أبيض

1/4 teaspoon

baking powder - باكينج باودر

1/2 teaspoon

baking soda - بيكربونات الصودا

75 gram

dark chocolate (piece) - شوكولاتة غامقة

drizzle

chocolate sauce - صوص الشيكولاتة

1 tablespoon

full cream milk - لبن كامل الدسم

1 tablespoon

cocoa powder - بودرة كاكاو
Step by step
Beat one large egg with an electric hand mixer at a high speed in a medium bowl.
Add vanilla extract and oil, then keep beating at the same speed. Add sugar and beat until it dissolves into the mixture.
Add flour, baking powder, baking soda and cocoa slowly while beating at a slower speed until well blended.
Stir in milk as the batter becomes thinner.
In a separate small bowl put the chocolate in the microwave to melt in 1 minute. Take out stir and put back into the microwave for another minute or 30 seconds, as it requires to melt.
Add melted chocolate to the batter in the mug, then bake in the microwave at medium power for 3 - 3.5 minutes.
Take out and let cool for a few seconds. Turn it upside down on a serving plate. Drizzle with chocolate sauce or powdered sugar as desired.