Yummy Chocolate Chip Pancakes
By shahdan • November 11, 2015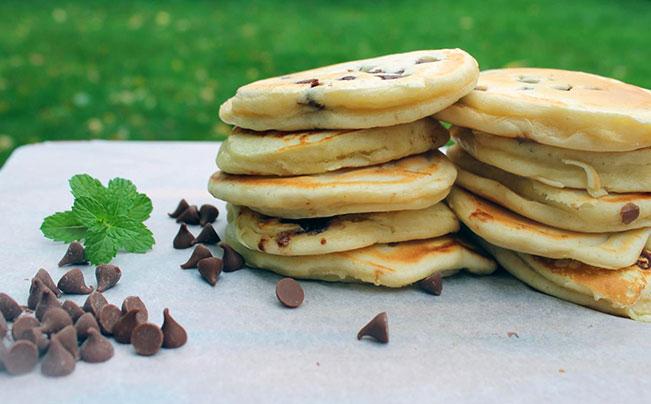 This is a super cheerful breakfast for fun family mornings!
These chocolate chip pancakes are super delicious when eaten warm, but are equally good cold, which makes them perfect for a lunchbox snack as well, paired with fresh fruits.
This recipe yields 10-12 small pancakes.
Ingredients
1 cup

self-rising flour (available in the flour section in most supermarkets) - دقيق بالخميرة

1 large

egg - بيضة

1 tablespoon

sugar - سكر

1 pinch

salt - ملح

1/2-3/4 cup

milk - لبن

1 teaspoon

vegetable oil - زيت نباتي

1/4 cup

chocolate chips - قطع شوكولاتة صغيرة
Step by step
Mix the flour with the salt and sugar in a mixing bowl. Make a well in the middle of the flour and add an egg and half the milk.
Whisk the milk and egg together while gradually mixing with the flour from around the edges.
Add the rest of the milk gradually and whisk until you reach a lump-free, relatively thick batter.
Brush a good non-stick frying pan with 1 tsp. oil and place over medium heat.
Use a tablespoon to drop the batter into the pan, one spoon per pancake. Make sure to space them well apart.
Use your hand to sprinkle some chocolate chips on the still wet pancake dough.
When bubbles appear from the sides, flip the pancakes over and let them cook for another minute, then remove from the pan and set side.
Repeat with the rest of the batter.