Caramel Cheesecake Topped with Chocolate Shavings
By Alhossna Abdalla • February 19, 2016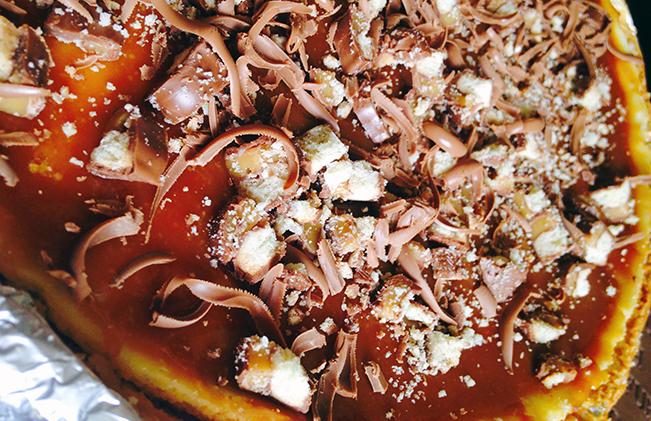 This recipe is an entry to #MyBestDish cooking competition with Easy-Pan.com.
Homemade rich cheesecake topped with caramel sauce, grated chocolate and Twix bars.
Ingredients
500 gram

biscuits - بسكوت

1/2 teaspoon

cinnamon powder - قرفة

100 gram

butter - زبدة

SAUCE:

500 gram

cream cheese - جبن كريمى

450 gram

sour cream - قشدة حامضة

3 whole

egg - بيضة

1 cup

sugar - سكر

3 pinch

lemon zest - قشر الليمون

2 teaspoon

vanilla extract - خلاصة الفانيليا

80 ml

water (about half cup) - ماء

250 gram

sugar - سكر

1 teaspoon

vanilla extract - خلاصة الفانيليا

120 ml

double cream - كريمة لباني

25 gram

butter - زبدة

4 piece

chocolate - شوكولاتة
Step by step
For the crust: Crush biscuits in food processor until they resemble fine breadcrumbs. Add cinnamon and butter. Process another 10 seconds to combine. Press biscuit crumbs into the base of a lightly greased springform pan. Refrigerate for 20 minutes.
Preheat oven to 170C.
For the filling: Using an electric mixer, beat cream cheese and sugar until smooth. Cheese should be at room temperature.
Add eggs, one at a time, beat slowly until combined (about 2 minutes).
Add sour cream, lemon zest and vanilla. Beat and scrape down the sides of the bowl. The batter should be well-mixed but still airy and not over-beaten.
Spoon mixture over crumb base and level top with a spatula.
Place a boiling water-filled pan on a bottom rack in the oven, to create enough moisture and prevent the cheesecake top from cracking while baking. Bake cheesecake for 45 minutes.
The cheesecake should still jiggle in the middle. After 45 min, turn off the oven and slightly open the the door and let the cheesecake cool down in oven for one hour, then let it cool completely on the counter for 30 minutes. Chill in the refrigerator, loosely covered, for at least 4 hours.
For the caramel sauce and topping: Put a medium, non-stick pan over high heat and pour in water. Carefully add sugar and bring it to a boil. Cook for 3-4 minutes, or until the sugar starts to turn golden brown – you don't need to stir but you can gently swirl the pan to make sure all the sugar melts.
Once the sugar has melted and bubbles form all over the surface, remove the pan from heat. Mix the vanilla extract into the double cream and carefully pour it into the hot sugar (be careful to avoid hot splashes). Whisk in the butter.
Leave the caramel to cool then top the cheesecake with it.
Grate your favorite chocolate bar and twix bars to decorate.