Blondies (Golden Brownies)
By Omar • February 18, 2016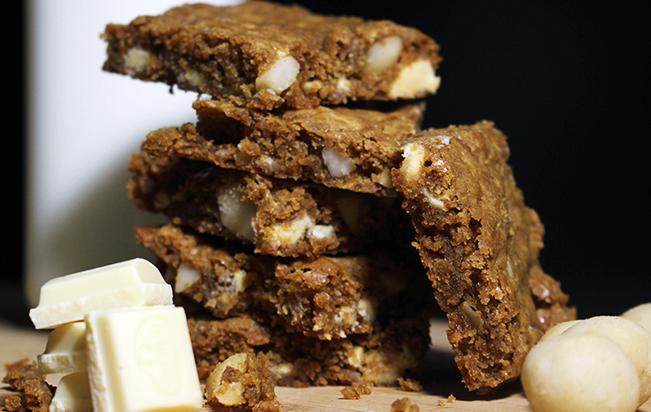 This recipe is an entry to #MyBestDish cooking competition with Easy-Pan.com.
Who would have thought that replacing cocoa in a brownie with brown sugar would result into such a delectable delicious transformation. Our version of golden brownies include white chocolate and salted macadamia nuts that gives this sweet the right crunch to help you reach new levels of yummy.
Ingredients
113 gram

butter - زبدة

1 piece

egg - بيضة

1 teaspoon

vanilla extract - خلاصة الفانيليا

130 gram

flour - دقيق

1/4 teaspoon

salt - ملح

1/4 teaspoon

baking soda - بيكربونات الصودا

160 gram

brown sugar - سكر بني

100 gram

white chocolate (roughly chopped) - شوكولاتة بيضاء

75 gram

macadamia nuts (salted) - مكسرات المكاديميا
Step by step
Preheat oven to 180C and place the rack in the center of the oven. Grease a 20cm square baking pan.
Place macadamia on a baking sheet and bake for 8-10 minutes or until brown and fragrant. Remove from oven, let cool, and then chop coarsely.
Meanwhile, in a small saucepan, melt butter on low heat. Remove from heat and let cool to room temperature.
In a bowl, combine flour, salt, and baking soda.
In the bowl of your electric mixer (or with a hand mixer), beat egg and brown sugar until light and frothy (2-3 minutes). Add vanilla extract and then melted butter and beat further. Scrape down the sides of the bowl then, on low speed, beat in slowly the flour mixture until incorporated. Fold in the chopped macadamia and chopped white chocolate using a spoon or spatula.
Pour the batter into the prepared pan, smooth the top, and bake for about 25-30 minutes, or until the top of the brownies are dry, golden brown, and a toothpick inserted in the center comes out with a few moist crumbs. Remove from oven and place on a wire rack. Cool completely before cutting into squares.