Baked Chips with Blue Cheese Topping
By yasmine • October 7, 2015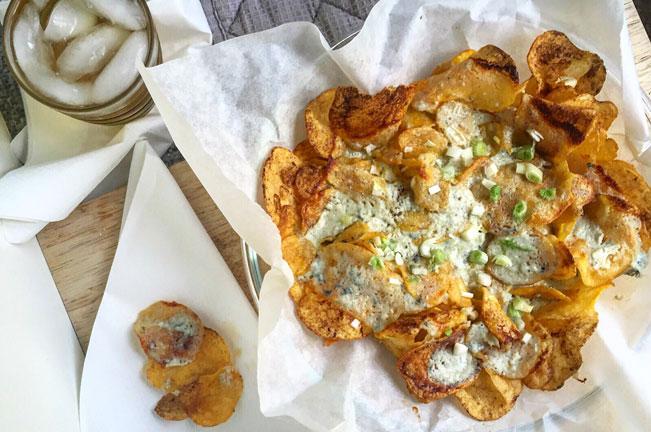 This is such a simple (and quick!) crowd pleaser… everyone will enjoy eating out of the big serving dish and lick their fingers after.
No advance preparation needed, just open a bag of your favourite chips (choose a thick cut brand), melt some cheese and drizzle it over the chips before baking for 10 minutes or less.
Ingredients
1

potato chips (big bag) - بطاطس شيبس

100 gram

blue cheese (crumbled) - جبنة ريكفور

100 gram

cream - قشطة

1/4 cup

milk (preferably skimmed) - لبن

black pepper - فلفل أسود

1/2 handful

green onions (chopped - OPTIONAL) - بصل أخضر
Step by step
In a saucepan, mix the blue cheese, cream and milk and place on low heat for around 10 minutes or until mixture is creamy and cheese has dissolved.
In the meantime, preheat the oven to 180 and line a flat oven dish with parchment paper and spread the chips over it.
Once the cheese is ready, pour it slowly over the chips attempting to spread the mixture evenly all over the top. Sprinkle the green onions if using any.
Put in the oven for up to 10 minutes (making sure the chips don't burn). Sprinkle some fresh black pepper as soon as it is out of the oven and serve it hot and bubbly.